About The BOMM
MasterMind groups are a proven forum for progression and growth. From the time of Socrates, to our Founding Fathers, to the greatest inventors of our time, people have been using the MasterMind to expand the knowledge and capability of a single brain. This is not a leads group. It is a team of up to 6 people dedicated to growing their businesses by sharing ideas, resources and insights. Everyone brings their experience, successes and learnings to the table. Here, you not only get input from a coach, but from your peers. In this safe, yet structured environment, you will examine ideas, explore possibility and serve as a sounding board for others.
Why You'll Love The BOMM  (Business Owners' MasterMind)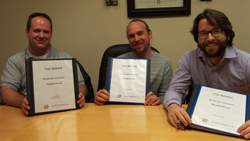 Small Groups. Our group size is limited to five business owners. This creates a high level of accountability to move the needle every month. It also provides the opportunity to intimately know one another's' businesses. In this small group, each member is in the 'spotlight' every time we meet. One on One Coaching. Each person gets one-on-one coaching each month with an experienced coach to dive in to their specific issues. These are highly productive and focused sessions. Excellent ROI. Participating in The BOMM allows you to learn from the experience of others – both good and bad. People have saved hundreds of hours and thousands of dollars by getting questions answered on the spot by other experienced business owners. Proven Material. We use tools, templates and education that have been proven time and again in both large and small businesses. These materials take you step by step through the process of building sound systems to produce sustainable success in your business. Vetted Resources. As a member of The BOMM, you have access to a list of vetted resources, saving you time and money looking for the right vendors.
Here's how it works:
Meet regularly as a group to discuss your business and get feedback
Receive private coaching to focus specifically on what you and your business needs
Gain access to vetted resources from all members of all groups
Follow a proven curriculum that takes you step by step through planning and implementation
Qualified participants must be dedicated to growing their business, generous with their ideas and encouragement of others, and accepting of input and feedback.