Orientation & Onboarding
What's the difference and why are they important?
New Hire Orientation is an event that takes anywhere from two hours to ten days. It is typically a classroom experience where new hires meet people from different areas of the company and learn basic information like the company's history, vision and values. Orientation covers the basics, like where to park and how to request a new keyboard.
Being organized and prepared is one way to show your new hire that they are welcome and an important part of the company. This is the time to come from the heart and convince the new hire they made the right decision by accepting the job.
Onboarding is a comprehensive process that starts when a candidate accepts their offer. It continues through the first 30 days to six months, depending on the complexity of their role. Onboarding is the process of helping the new hire get ramped up as quickly as possible. This includes not only the basics, like compliance, and what they need to know about their daily roles and responsibilities, but also advice on how to acclimate to the culture and norms of their team or department. It's the time to set clear expectations about performance and show them where they fit in with the rest of the company.
The three focus areas of the onboarding process are company, team and position.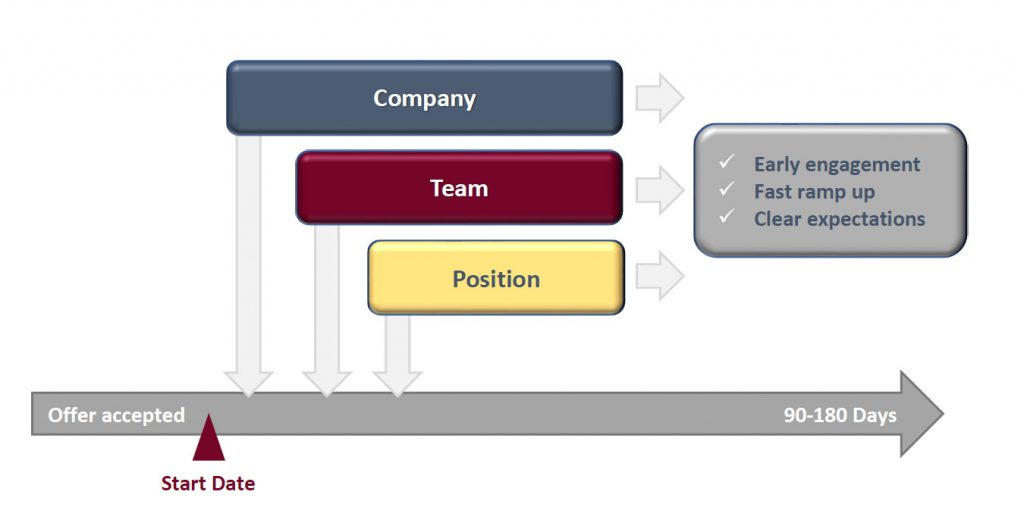 Successful onboarding will…
Help people assimilate the organization's history, vision and values
Build internal networking opportunities
Provide specific learning objectives and resources
Set performance objectives and expectations
Depict how daily activities contribute the meeting of company goals
…and results in early engagement, fast ramp up and clear expectations for performance.
Why Invest in Onboarding?
The cost of turnover can be a tremendous burden on a company's bottom line. Contrarily, "organizations with a standard onboarding process experience 54% greater new hire productivity and 50% greater new hire retention". (source: interactiveservices.com)
Here are some additional benefits and results of a sound onboarding program.
Benefits
Early engagement
Attachment to values
Fosters community
Consistent message
Pride in workplace
Results
Increased job satisfaction
Increased performance
Inoculates against turnover
Provides direction to hiring managers
Personalized Onboarding Plans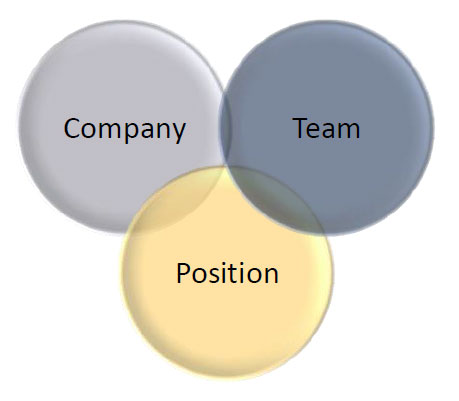 Onboarding plans encompass three areas of focus – the company, the team and the position. While some roles may have shorter or longer ramp up periods, a common length is 90 days. It may take longer to get new employees up to speed when they are in complex roles with more responsibilities. Onboarding plans cover everything the employee needs to learn or become competent at within the first few months. This may include things like good manufacturing processes, email etiquette and other standard procedures.
At a minimum, sound onboarding programs include:
New hire forms and administration
Culture assimilation information about the company's mission, vision and values
Overview of the company's structure and strategic objectives
Training on the company's products and services
Introductions to team and constituents
Awareness of team functions and norms
Performance conversation with manager to set clear expectations
Goal-setting
Partnering with a mentor or coach
Not only are new employees proving themselves, but companies are too. Research has supported the theory that up to 33% of new hires either quit their job within their first six months of employment or starting looking for a new job.
Ask for feedback from the new employee and their manager, to measure the success of the onboarding process. Survey new employees for their feedback after orientation to ensure they have everything they need to get started in their role. At thirty days, ask if they have everything they need to be successful in their role, team and in the company. Survey new hires at the 90-day mark for their level of engagement. Checking in regularly allows for course correction, if needed.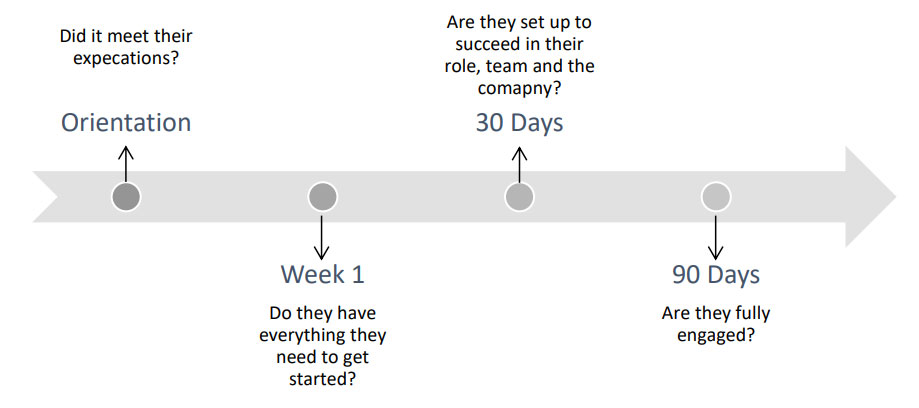 Onboarding is the first chance to have a positive impression on hew employees. It can make or break their commitment and engagement to the company. It is the time to set people up for success and make them feel good about their decision to join your team.
---
We help new employees be more engaged and committed to their new companies through meaningful orientation and sound onboarding programs. Call or drop a note today to talk about how we can help you.