These 6 elements will enrich your leadership development training program.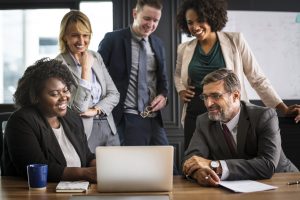 A Sponsor. This is someone on the executive team who is a champion for the program. They participate in the kickoff and celebration, as well as one other point in the program.
Coaching. Provide a coach to each participant to process and integrate what they're learning into their day-to-day work.. Program coaches may be the facilitators, graduates, or external resources.
Mentorship. Outside of the classroom, most people will benefit from having a sounding board to try new skills and behaviors. This is an alternative to having coaches.
An Assessment. Whether it's about communication, emotional intelligence or a 360, assessments provide objective insight that can help people overcome their blindspots. I recommend using coaches to help people digest their survey results.
Experiential Offsite. Meaningful offsite activities provide a forum for personal discovery that no classroom can provide. I'm partial to my Horse Power Leadership program.
Final project. This is where participants bring together everything they have been exposed to and use it to make an impact on the business. Requiring people to work in teams can add an additional layer of cross-functional collaboration.
A successful leadership program addresses multiple levels in the organization, from high performing individual contributors (also called HiPo's, also called emerging leaders), to first time managers, all the way up to the executive level. Find a way to align the content at all levels. As an example, let's look at emotional intelligence.  HiPo's focus on their own EQ, while executives will discuss ways to support people who are managing others. So it's the same topic, just a different angle.